Nutella Cafe Grand Opening
Nutella Cafe: Grand Opening
Creating a new kind of customer experience
Our team set out to visit the grand opening of the Nutella Cafe in Chicago to see how this world-famous brand was redefining their customer experience.
The Ebco global footprint allows us to be at the intersection of exciting change and innovation to witness behavior-shifting trends and report back to our clients to inspire them.
As for why a Nutella Cafe, and why now — there's a lot of macro trends that we found in play at driving the consumer desire for it. We've explored the following four trends:
Trend 1: Surge in Sweet
Trend 2: 360 Experiences
Trend 3: Snap That
Trend 4: Brand Ambassadors
Magnificent Mile

Nutella now holds a coveted spot with the other super-brands of the world on the Chicago's luxurious Magnificent Mile. The cafe shares premium retail space space with some other popular Chicago sweet treats like Garrett's Popcorn and Stan's Donuts
But why a Nutella Cafe in Chicago?
As Nutella prepared to open the world's first Nutella Cafe, hundreds of people waiting patiently for a glimpse of this iconic brand's first dedicated retail experience – a mix of young and old people of every race, and professionals from the offices surrounding Michigan Avenue to the tourists visiting nearby Millennium Park.
Grand Opening

The opening of the cafe got a lot of buzz, so as the crowds waited outside, VIPs and the press got their first look.
"There's an incredible dining culture in this city, and Nutella is all about the idea of sharing good food with friends and family. We thought that Chicago would be the perfect place to do that." — Rocco Dispirito
Inspired by 2013's top restaurant in the world, Alinea, Chicago has quickly become a global foodie destination with top chefs like Stephanie Izard, Grant Achatz and Rick Bayless, and 9 local restaurants were nominated for a James Beard award this year.
Why Chicago?

One may wonder, why a Nutella Cafe? And why Chicago? As for the latter question, my theory is that we Chicagoans love to eat (some say we need to build a layer of good fat to keep us warm during those cold winters!) But Chicago is fast becoming a foodie destination of the world, and Nutella took notice.
"On visits to Rome, my family usually stayed with my father's sister Elena, a nun. Breakfast at the convent was almost always day-old bread and Nutella, and the memory remains one of my fondest of Italy. Those breakfasts were truly a religious experience." — Rocco Dispirito
And it looks like Chicago is welcoming them with open arms. From what we've seen, the lines at the cafe are still hours long as eager Nutella fans wait for their turn to eat at the only Nutella Cafe in the world.
People are going nuts over extreme sweets, especially those that are visually appealing! The craze of the Starbucks unicorn shakes had consumers turning a blind eye to the sugar content of the popular drink, while Whole Foods puts a fun twist on an international dessert favorite, and perhaps most visually satiating desserts are the bloggers creating their own visions of beauty through sweets.
Creative Desserts

Beauty meets creativity when it comes to a lot of today's favorite desserts, while caution about calories appears to go to the wayside, at least for a taste.
All-day menu offers sweet and savory options.
"We wanted to challenge the chefs with the idea of carrying the essence of Nutella throughout the day, whether that's in a breakfast pastry or a salad."
Nutella has expanded beyond the expected "nutella in everything" idea with an all-day menu is that not only offers an extensive lineup of sweet options, but savory as well. Nutella looks to tap into those sweet wishes with their iconic offering, all inspired by the Nutella brand whether the ingredient is featured or not.
Brands are curating immersive experiences versus pure transactions today in order to win the consumer at retail. While customers waited hours to get their chance to be some of the first to to try Nutella Cafe's offering, Nutella took the opportunity to make the whole experience a Nutella experience.
Brand Experience

Other brands that are turning their physical retail spaces into more than just shopping experiences are Samsung, Adidas and Cookie DO in New York.
Use multiple touch-points to connect with fans.
From Nutella employees chatting up their fans to product trivia and giveaways to storytelling, Nutella used multiple touch-points throughout the cafe to connect with their fans. Other retailers are also using their bricks and mortar space to elevate their brand experience to entice customers to interact with them.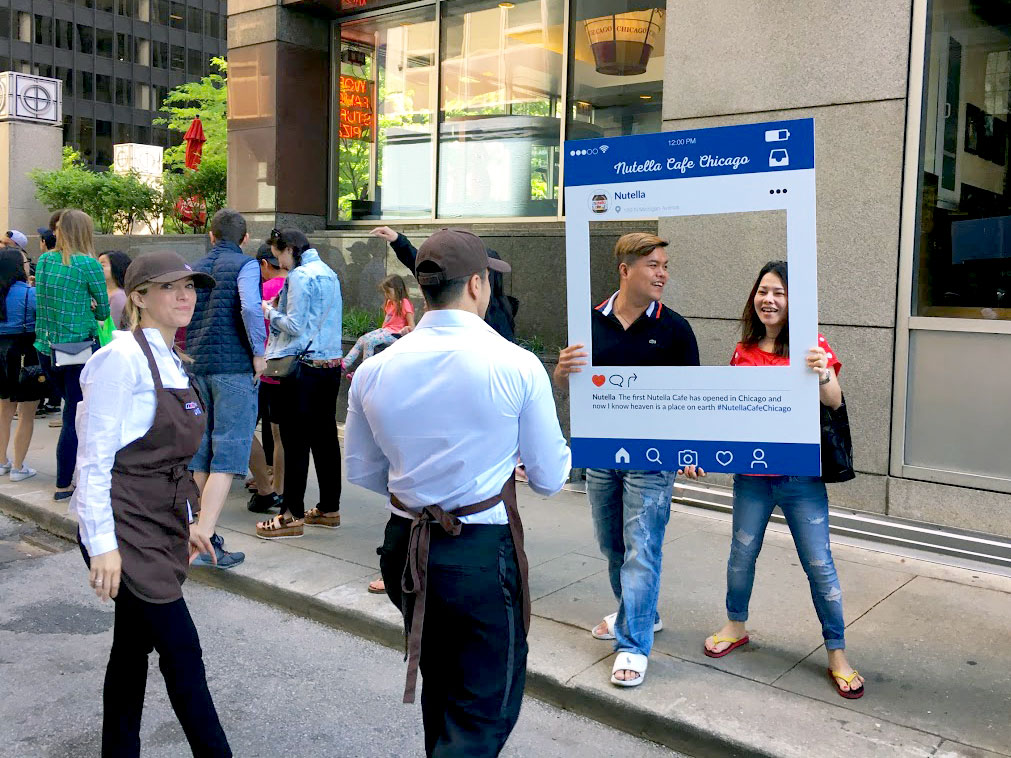 As social media continues to blend brand and customer interactions, capturing user-generated content, often for free, using social media hashtags, @mentions, Facebook Live Chats and other props to encourage everyone to share their piece of the story while getting invaluable assets and buzz. At the Nutella Cafe, things were no different. Even the employees are getting into it!
Social Networking

Excited fans waiting in line for the Nutella experience created content while passerbys captured the crowds - some even periodically live-broadcasted their personal experiences.
Trend 4: Brand Ambassadors
Like other brands aiming to extend their presence, Nutella has tapped into a brand ambassador with Chef Rocco Dispirito, who was on hand for the grand opening of the cafe. The value? Built-in cache that parallels and enhances corporate identity and personality in appearance, demeanor, values, and voice.
Interested in more information on how the Ebco can create a customized trends expedition for you company? Contact us today.