The Bridge to Cuba: Little Havana
Little Havana: The Bridge to Cuba
how Little Havana, a popular neighborhood in Miami, compareS to Cuba
A few years ago, as the Obama administration rolled back regulations and restrictions between the U.S. and Cuba, the tourism floodgates opened to Cuba, with cruises, flights and hotels all trying to get a share of the market.
With Trump's recent order reinstating certain travel restrictions, tourists are now uncertain as to whether or not a trip to Cuba is in their future. The Ebco was fortunate enough to visit Cuba last year. With the new travel rules, we were curious to see how Little Havana, a popular neighborhood in Miami that boasts a majority of Cuban-Americans, compared to Cuba.
One thing was certain - tourists were flocking to Little Havana, and there were enough similarities across the two regions where Little Havana could be a surrogate for those who have had their curiosity in Cuba piqued.
A rise in tourism

A rise in tourism can be seen with the influx of tourist buses and increase in walking tour and "people to people" visits. Cuban National Pride is high in both Cuba and Little Havana, despite the decades of complicated relationships between the two countries.
Trend 1 Dominoes Date: There's so much beyond the game
Dominoes has been a favorite pastime of Cubanos for many years. There's so much beyond the game that lures people in - not only is it a brainteaser, but also a reason to congregate socially and have a shot of cortado or rum, while catching up with friends.
Cuba

It's hard to walk past a street in Cuba and not see 4 people crowded around a card table, playing dominoes.
Little Havana

In Little Havana, the tradition continues and there is a famous gazebo that houses and old, but popular, Domino Club.
Trend 2 Neon Resurgence: "The Paris of Latin America"
In the mid-1900s, thousands of neon signs light up Havana's city streets, leading some to call it the "The Paris of Latin America". But after the rise of Castro's regime, the signs came down one by one, as they were not only very commercial, but also expensive to maintain.
Cuba

Over the past decade, a Cuban and a Cuban American have united to bring life back to the Neon influence in Havana.
Little Havana

That neon influences graces the streets of Little Havana as well, creating numerous iconic locations throughout the neighborhoods.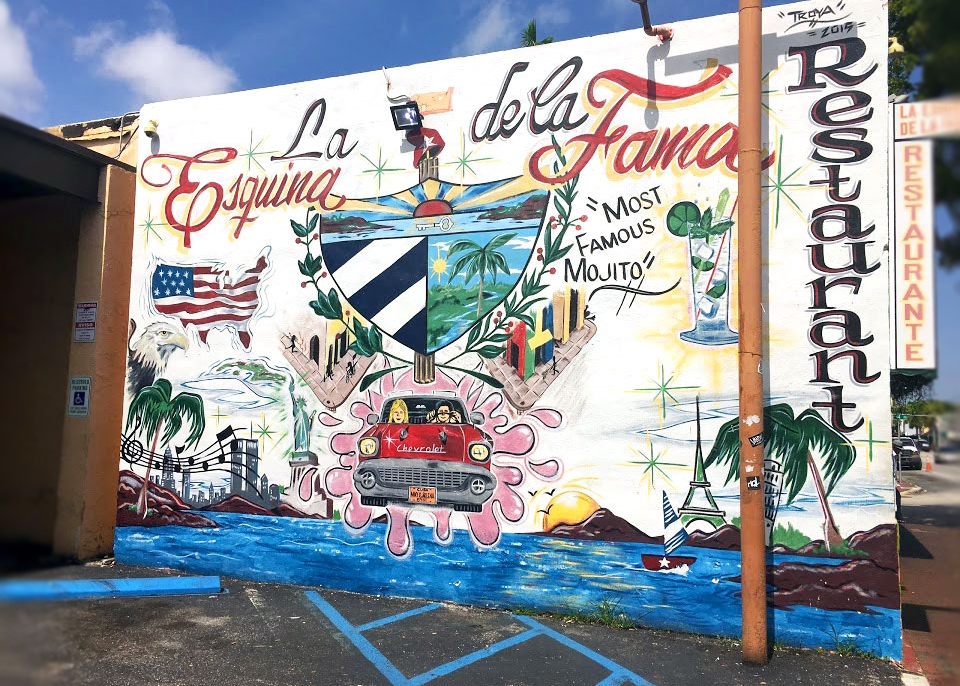 Trend 3 Art Appreciation: Creative talent and desire for expression
Art is a form of creative and political expression in Cuba, a profession of individuality in an otherwise Socialist country.
Cuba

Anywhere you go in Cuba, you can see century-old walls and landscapes covered with beautiful art, where, if you take a closer look, you can often find a powerful and nationalist message.

Little Havana

In Little Havana, that creative talent and desire for expression came across the small stretch of ocean many years ago, and walls inside and out are covered with beautiful paintings.
Trend 4 Cuban Cigars: The famous cigar, an elusive experience
It's hard to think of Cuba without thinking about Cuban cigars and the allure that surrounds them. For years, the famous cigar was an elusive experience that many spoke about, but few Americans had ever tried.
Cuba

When regulations were rolled back between the United States and Cuba, one of the first places Americans would flock to in Cuba was the Cigar Factory, to grab a famous Cohiba.
Little Havana

But a little known secret is that you can get Cuban cigars (made in America, of course) on the streets of Little Havana, hand-rolled by multiple generations of a Cuban American cigar family.
Interested in more information on how the Ebco can create a customized local market expedition? Contact us today.